These works debuted in a solo exhibition Mirror Universe at Caren Golden Fine Art, NYC, in 2008. They exemplify my interest in the links between art and science-- in particular how consciousness and the act of seeing create the illusion of a stable, predictable, and singular universe.
The exhibition consisted of conceptual and visual interpretations of characters, scenes and sets from the original Star Trek television series (1966-1969) and Star Trek: The Next Generation (1987-1994). In addition to the concept of Mirror (or Parallel) Universes, most of the works incorporate actual mirrors and can only be fully comprehended when seen reflected in the mirrors.
Constructed from ordinary materials such as spools of thread, tightly packed chenille stems, or semi-transparent colored beads, the works in Mirror Universe merge high and low art forms, scientific concepts and TV culture, to present "reality" as a subjective experience vs. an absolute "truth."
Background: The exhibition title Mirror Universe was inspired by the 1967 Star Trek episode Mirror, Mirror in which a transporter mishap switches the crew of the Enterprise with their evil counterparts, trapping them in a "savage parallel universe." This struck a poignant chord.
The concept and title for this exhibition gelled when I realized every Star Trek series had at least one episode based on the concept of a mirror or parallel universe, which fit in with my ongoing interest in the link between art and science, human perception, and subjective reality.
About Parallel Universes: "For years Parallel Universes have been a staple of science fiction. Scientists now believe there may really be a parallel universe - in fact, there may be an infinite number of parallel universes, and we just happen to live in one of them. It started when superstring theory, hyperspace and dark matter made physicists realize that the three dimensions we thought described the Universe weren't enough. By the time they had finished they'd come to the conclusion that there are eleven dimensions and that our Universe is just one bubble among an infinite number of membranous bubbles which ripple as they wobble through the eleventh dimension."- Quoted from the BBC Television Program: Parallel Universes (February, 14, 2002)
---
Microsoft Art Collection
"Holodeck: Simulation Programů"
by Devorah Sperber
on permanent display at Microsoft, Redmond, Washington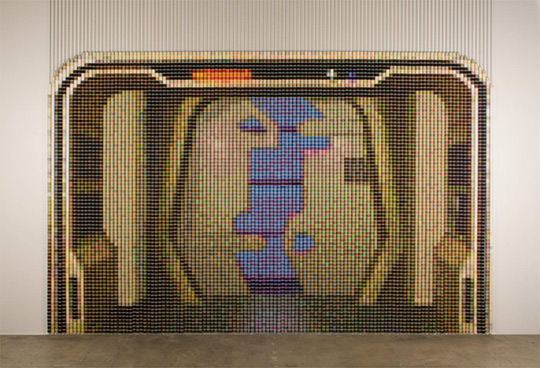 (studio view) Holodeck: Simulation Programů, 2007-2008, *9,600 spools of thread (95 x 149 inches thread only), stainless steel ball chain and hanging apparatus, convex mirror mounted on opposing wall
---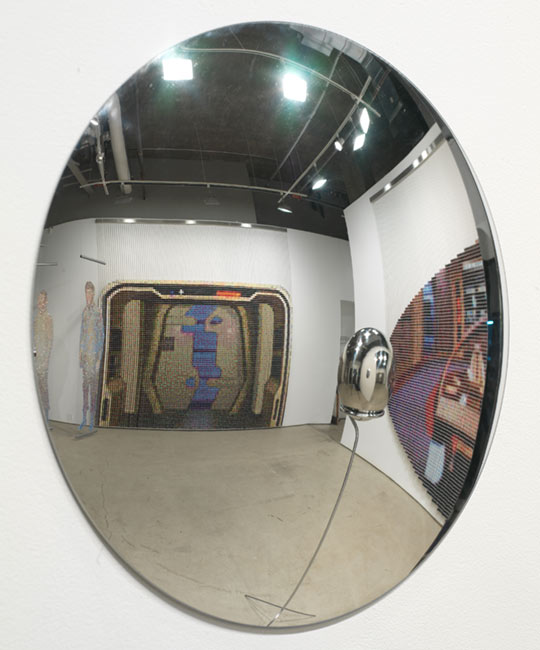 Installation view of "Holodeck," as seen reflected in a convex mirror, Caren Golden Fine Art, NYC
---
About Holodeck: Simulation Program "Microsoft"
This thread spool installation is a rendition of the interior view of the Holodeck doorway and arch (from the Star Trek TNG Series). This perspective places the viewer inside the holodeck (vs. outside looking in). Thus, the space in which this work is installed as well as everything and everyone in the space can be thought of as part the holodeck's virtual-simulation program. The title of this work changes with each exhibition, to reflect the time and location of each simulated Holodeck program.
Holodeck: Simulation Programů expresses my ongoing interest in presenting "reality" as a subjective experience vs. an absolute "truth" more literally than any work I have created to date. It supports the idea that "reality" is an illusion created by the human brain through unconscious processes by which raw perceptual data is input, filtered, and organized to create a holographic illusion of a solid, predictable universe.
About Holodecks : (from Wikipedia) A holodeck is a simulated reality facility located on starships and starbases in the fictional Star Trek universe. A holodeck is an enclosed room in which objects and people are simulated by a combination of replicated matter, tractor beams, and shaped force fields onto which holographic images are projected. Sounds and smells are simulated by speakers and fragranced fluid atomizers, respectively. The feel of a large environment is simulated by suspending the participants on force fields which move with their feet, keeping them from reaching the walls of the room (a virtual treadmill). Perspective is retained through use of sound damping fields and graviton lenses, which make objects, people, and sounds appear to be more distant.
The effect is an ultra-realistic simulation of an environment, with which the user can interact. User controls for a holodeck are typically located near its door (inside and out); on the inside an arch surrounds the exit and can be revealed by a user to start, modify, or stop a simulation (as seen in the thread spool installation Holodeck: Simulation Program...).
---
About The Beaded Figures (Beaming-In)
The Beaming-In beaded figures are slightly larger-than-life, beaded renditions of Captain Kirk, Spock and Dr. McCoy in various stages of "beaming-in" via transporter beams. The works installed at Microsoft are partially beamed-in.
---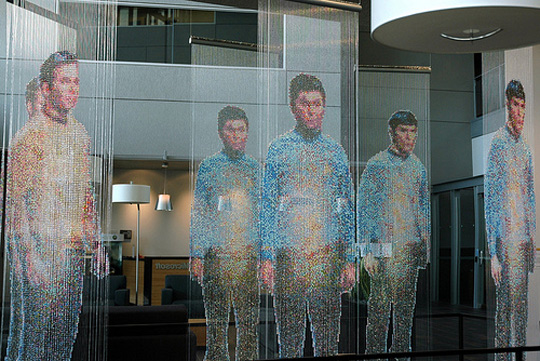 Installation view at Microsoft: Spock, Kirk, and McCoy Beaming-In (in-between), installed in front of an 8' x 12' mirror. Each figure constructed from 25,000+ colored faceted beads and silver bicone beads, monofilament, silver painted wooden dowels
---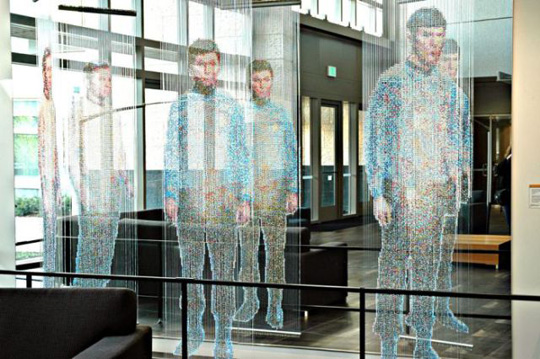 Installation view at Microsoft
---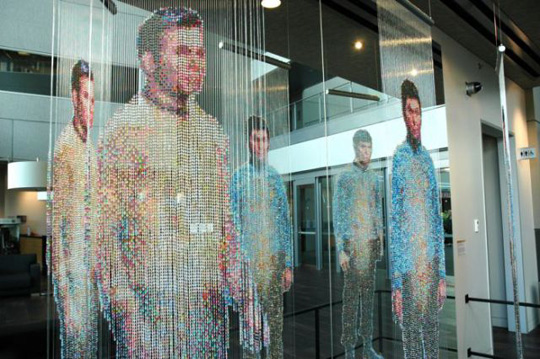 Installation view at Microsoft
---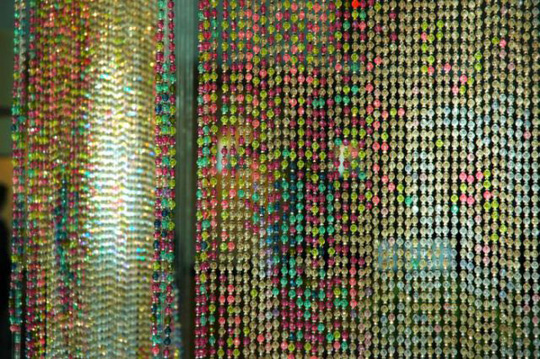 Detail view of beads
---
A note about the Star Trek tranporter: Due to the low budget nature of the original series, Roddenberry created the transporter to avoid having to build elaborate sets for space ships or shuttles to fly towards and then land on. It was far easier and cheaper to transport the crew directly onto a planet's surface.
---