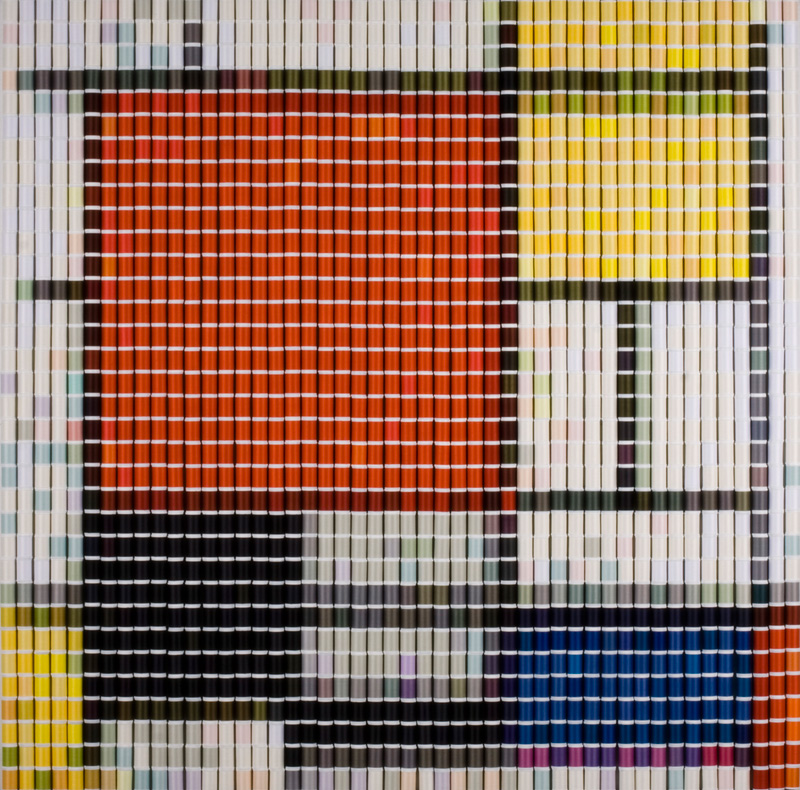 After Mondrian (Fashion 26), 2009 by Devorah Sperber, 59.5' x 59.5 inches, 1632 spools of thread, stainless steel ball chain and hanging apparatus
---
After Mondrian (Fashion 26), 2009 by DEVORAH SPERBER
Devorah Sperber's installation behind the front desk of the Fashion 26 - A Wyndham Hotel in New York City is a bold statement bringing together fashion, art and an urban aesthetic. Based on a work by Piet Mondrain, a pioneer in abstract and geometric painting, Sperber's work has the energy, vitality and cultural references that make it a fitting symbol for the Fashion 26 Hotel. Mondrian's renowned painting, "Broadway Boogie Woogie," (in the collection of the Museum of Modern Art in New York), has been frequently recognized as a symbol of the frenetic pace of life in the big city and an inspiration for jazz and contemporary music compositions.
Devorah Sperber's "After Mondrian (Fashion 26)" is similarly invested with many levels of references and associations. From a distance "After Mondrian (Fashion 26)" is perceived as a painting - a bold array of squares and rectangles that are interlinked with a strong black line suggesting an urban grid of streets and intersections. The work is, in fact, composed of 1632 spools of thread, a utilitarian tool of tailoring, which makes an immediate reference to the place of fashion in New York City's world of culture and commerce.
This tapestry of thread spools splinters into reflected flashes of color when viewed in the numerous mirrors on an adjoining wall, embellishing and enhancing the colors and design of the hotel lobby. "After Mondrian (Fashion 26)" embodies the continually changing nature of fashion, culture and contemporary urban life.
Devorah Sperber has been the subject of numerous articles in both fine art and scientific publications. Her singular work has been extensively exhibited in both solo and group gallery and museums shows. Sperber's solo museum exhibition, "The Eye of the Artist: The Work of Devorah Sperber," which includes works based on the Mona Lisa, the Last Supper and iconic paintings by Vermeer, van Eyck, Rembrandt and Picasso, was first presented at The Brooklyn Museum in the summer of 2007. It next traveled to Mass MoCA in the summer of 2008 and The Boise Art Museum in the summer of 2009 and will open at The Knoxville Museum of Art at the end of October, 2009 and the Museo de Arte de Puerto Rico in March, 2010. Sperber's work has been exhibited extensively throughout the United States and Europe with her next solo gallery exhibition opening in Milan, Italy in October, 2009. She has three site specific works on long-term installation in the lobby of One Penn Plaza in New York City, which is open to the public for viewing during normal business hours. "After Mondrian (Fashion 26)" by Devorah Sperber is a unique work of art commissioned for the Fashion 26 - A Wyndham Hotel, New York City.
---

*Partial funding by Coats and Clark


Devorah Sperber is a New York-based artist whose sculptures, composed of thousands of ordinary objects, negotiate a terrain between low and high tech. Her labor-intensive works explore repetition and the effects of digital technology on perception, scale, and subjective reality. -Patricia Phillips, Executive Editor, Art Journal