---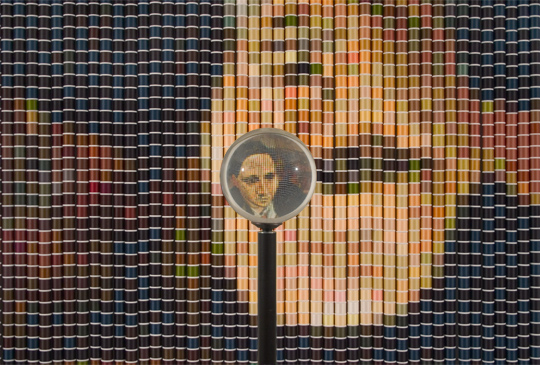 "After Picasso" (2006) (detail)
Devorah Sperber
---
Interested in the links between art, science, and technology through the ages, New York artist Devorah Sperber uses spools of thread to create innovative, pixilated images of familiar artworks. Her works, she says, address the way the brain actually processes what the eye sees, versus the way people think they absorb imagery. "As a visual artist," she says, "I cannot think of a topic more stimulating and yet so basic than the act of seeing—how the human brain makes sense of the visual world."
---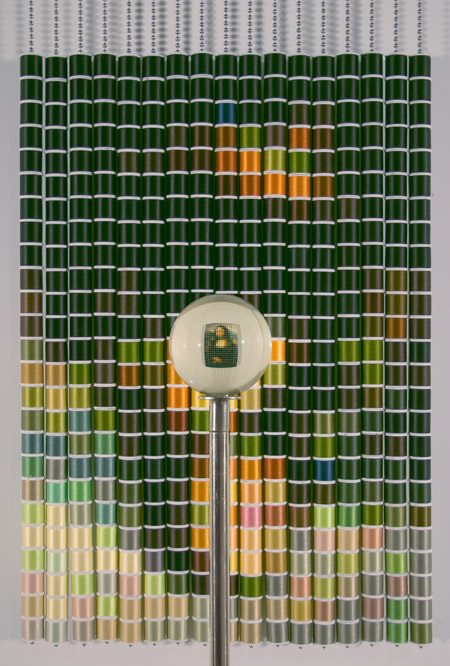 "After The Mona Lisa 1," (2005)
Devorah Sperber
---
Made of different-colored spools of thread, Sperber's inverted images appear as colorful abstractions to the naked eye. But when a viewer steps up to the optical device she places in front of each work, the piece becomes immediately recognizable as the image of a famous painting, from masters who include Leonardo da Vinci and Picasso. She creates the image upside down to illustrate how the lens of the eye projects an inverted stream of data onto the retina, which is flipped upright by the brain. The clear acrylic sphere she positions in front of each work functions like the human eye and brain, not only inverting but also focusing the image so that it appears as a sharp and faithful reproduction of the famous painting.

Sperber is exhibiting three thread spool installations (which debuted at the 2005 International Ljubljana Print Biennial, where she represented the United States) including full scale re-creations of Leonardo da Vinci's The Last Supper (29 feet wide) and Mona Lisa (30-by-21-inches). Her concept has its roots in the technology of print-making. She selected The Last Supper and Mona Lisa because they are two of the most recognizable and reproduced images in the history of art.
---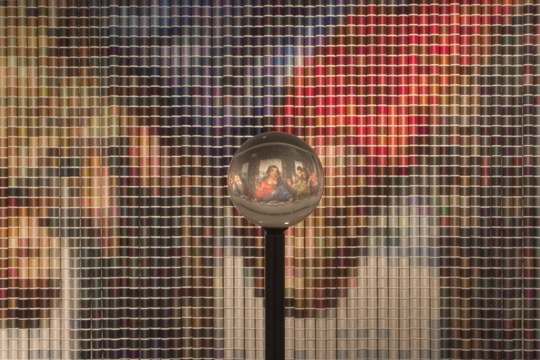 "After the Last Supper," (2006) (detail)
Devorah Sperber
---
Also on display are Sperber's recreations of Picasso's portrait Gertrude Stein and van Eyck's Man in a Red Turban, composed of thousands of colored crystals and thread spools. Her inspiration for this series is a scientific survey of 3/4 view portraits over the past two millennia which revealed that one eye of the sitter is commonly located exactly at or near to the vertical center of the composition. The study suggests that the human brain is hard-wired to respond to symmetry and that the centering of one eye is appreciated at a subconscious level in the brain. Sperber stumbled upon this survey while researching the Mona Lisa and The Last Supper, both of which happen to be perfect examples of eye-centeredness.
Images courtesy of the artist
---