28. March 2008
Pulse on Pier 40
The circuitous route to Pulse New York, relocated from the Gramercy Park Armory to Pier 40 on the Hudson at West Houston Street, crosses the West Side Highway, passes a green soccer field and parking structure, and enters through a long red-lit tunnel, one of the many artist projects scattered through the space -- and rewards the intrepid visitor who makes it to the end of the pier with a picture window framing a startling view of the New Jersey shore of the river, now sprouting quite a crop of new condo high-rises.
Pulse boasts almost 100 galleries in a low-key presentation that reminded at least one visitor that looking at new art can actually be a lot of fun.
And at the booth of New York gallery Caren Golden Fine Art is a suite of three hanging curtains, each made of thousands of colored beads by Devorah Sperber, whose show, "Mirror Universe," is currently on view at the gallery in Chelsea. Celebrated for re-doing Old Master portraits by arranging spools of brightly colored thread that are then viewed through a magnifying lens, Sperber has embarked on a new series based on the classic Star Trek series.
The three beaded curtains in the booth show Captain Kirk, Mr. Spock and Dr. Leonard "Bones" McCoy at the moment that their atoms are metamorphosing in the transporter -- "beaming up" -- a salutary effect of Sperberís bead technique, as it happens. Done in an edition of two, the works are $28,000 each or $84,000 for the set of three.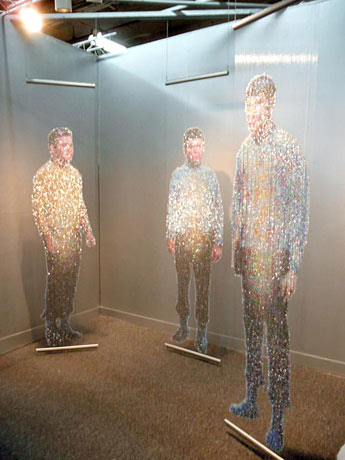 Devorah Sperber's bead-curtain rendering of the Star Trek crew at Pulse New York