"After Vermeer 3," 2009, 1592 spools of thread, stainless-steel ball chain and hanging apparatus, clear acrylic sphere, metal stand
Dimensions: 54" x 54.5" (thread only) x 60" d (viewing sphere)
---
After Vermeer 3
is constructed from 1592 spools of thread so the image resolution is fairly low. Yet when seen through a viewing sphere, the thread spools condense into a recognizable image, conveying how little information the brain needs to make sense of visual imagery it has already been exposed to.
At first glance, the thread spool installation appears to be a random arrangement of spools of thread. A clear acrylic sphere placed in front of the work, shrinks and condenses the thread spool "pixels" into a recognizable image while also rotating the imagery 180 degrees like the human eye. This shift in perception functions as a dramatic mechanism to present the idea that there is no one truth or reality, emphasizing subjective reality vs. an absolute truth.
---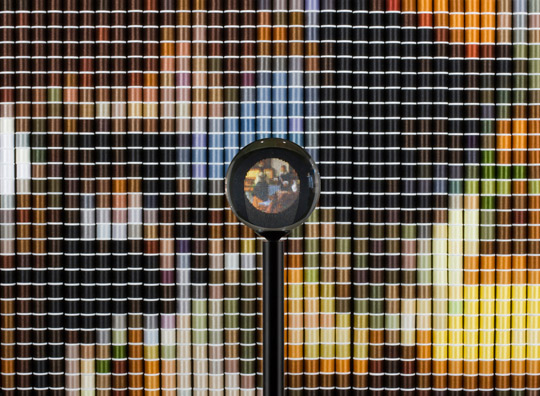 Detail view: After Vermeer 3, 2009
---
Artist Statement
I am interested in the links between art, science, and technology through the ages, how the human eyes and brain prioritize, and reality as a subjective experience vs. an absolute truth. As a visual artist, I cannot think of a topic more stimulating and yet so basic, than the act of seeing--how the human brain makes sense of the visual world.
:"After Vermeer 3" is based on "The Music Lesson," by Johannes Vermeer (1642-45). A strong case has been made that Vermeer used the Camera Obscura as a tool to draft many of his compositions. My rendition is constructed from 1592 spools of thread so the image resolution is relatively low. . A clear acrylic sphere, placed in front of the work, rotates the imagery 180 degrees, referencing the inverted images projected inside early Camera Obscuras. The work is constructed from only 1592 spools of thread, so the image seen in the viewing sphere is blurry, referencing the lack of clarity of the projected images inside the Camera Obscura. - Devorah Sperber
---
*Partial funding by Coats and Clark



Devorah Sperber is a New York-based artist whose sculptures, composed of thousands of ordinary objects, negotiate a terrain between low and high tech. Her labor-intensive works explore repetition and the effects of digital technology on perception, scale, and subjective reality. -Patricia Phillips, Executive Editor, Art Journal